Destination weddings are weddings that take place in an area far from your home, usually at a tourist attraction or historical location. Although they are more costly than traditional weddings due to the added benefits, destination weddings can be very affordable. Destination Wedding in Jaipur will be a great choice to get married in your finest suit and take in the beautiful breeze. You can also visit historical sites such as forts and palaces.
Jaipur is the capital city of Rajasthan and is known as Pink City. The city has a rich history and is known for its wide avenues and large gardens. The past is brought to life in the magnificent palaces and forts that are blushed pink. These are the places where the maharajas once lived. Jaipur's bustling bazaars, which are famous for Rajasthan fabric, jewelry, and shoes, have a timeless quality that is a treasure trove of shopping.
Jaipur is the first Indian planned city. The capital city of Rajasthan is known for its colorful gems. It is renowned worldwide for its rich history and all the modern conveniences of a metropolis. The backdrop of Jaigarh and Jaigarh forts, Jaigarh and Garh Ganesh Temple makes Jaipur stand out. This bustling city is located in the middle of the golden triangle, which includes Jaipur, Agra, and Delhi.
Destination Wedding Venues in Jaipur and their Specialities
Here is The List of Some Beautiful Destination Wedding Venues in Jaipur, Nowadays Many famous Celebrities in India have chosen Jaipur for their Special Days, and there are so many Wedding Resorts in Jaipur offering special kinds of decorations and other amusing and special things like food and special places like an open Poolside or a Huge Banquet for the special occasions according to their budgets.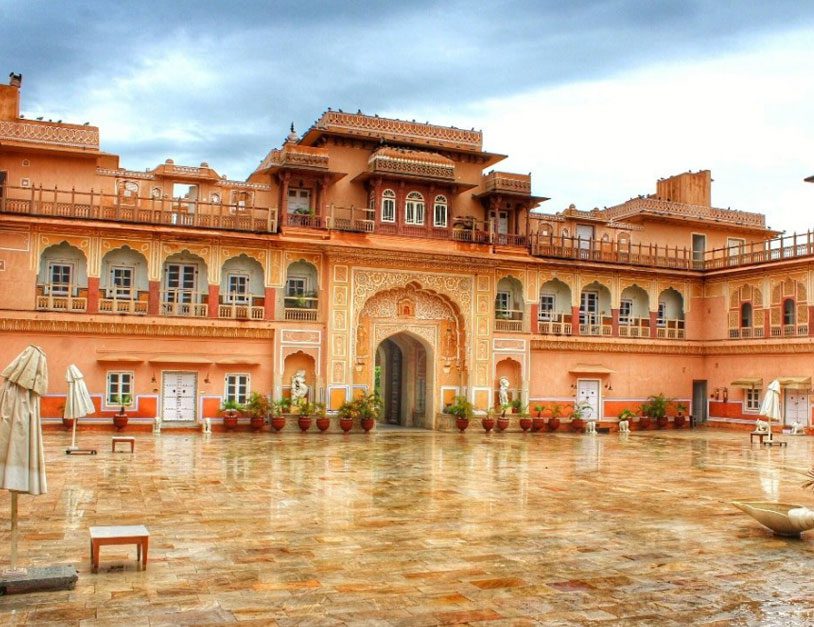 Chomu Palace – Memorable Celebration
Chomu Palace, Jaipur, can double the importance of a memorable celebration. This heritage hotel is the ideal venue for your dream wedding.
Main Courtyard

Darbar Hall

Sheesh Mahal (Hall of Mirrors).

Moti Mahal

Janana Courtyard

Swimming Pool Baradari

Manohar Garden
Lebua Resort – A Great Place
Lebua is a popular place to hold weddings in Jaipur. Lebua's regal appearance and state-of-the-art facilities make it a great place to get married in Jaipur. The hotel offers a variety of indoor and outdoor venues for nuptials.
Adya Banquet Hall

Vajra Restaurant

Chakra Bar

Spa by L'Occitane
Le Meridien – A Beautiful Place
Le Meridien is Jaipur's ideal venue for weddings. Le Meridien, a strategically located hotel, is one of Jaipur's best wedding venues. It offers incredible service and an excellent location.
Diwan-E-Khas

Amer Ballroom
The Raj Palace – Historical Connections
Raj Palace is the perfect place to hold a royal wedding here in Jaipur. This architectural gem has strong historical connections and promises a fairytale wedding. You can exchange vows in front of the majestic backdrop. This is a special occasion that you will share with your loved ones at one of the most beautiful places in Jaipur.
Elephants

Camels

Horse

Local folk musicians and dancers

Kalbeliyas and puppeteers
Jai Mahal Palace – A Royal Choice
Jai Mahal Palace, an Indo-Saracenic architectural gem that dates back 270 years old, is the perfect venue for your dream Jaipur wedding. This heritage property, which is owned by the Taj group hotels, has six venues and the best arrangements to make your wedding even more memorable.
Celebration Lawns

Durbar Hall

Fountain Lawns

Lotus Pond

Palace Lawns

Poolside Lawns
Rambagh Palace – A Stunning View
Rambagh Palace, another Taj hotel, is the ideal place to get married in Rajasthan. Rambagh Palace, Jaipur's most important royal palace residence, is situated on 47 acres of peaceful, landscaped gardens. It exudes elegance, and regal feeling, and has a stunning view.
Jaigarh Hall

Kesarbagh

Mubarak Mahal

Mughal Garden

Mughal Terrace

Naksha Garden

Oriental Garden

Oriental Terrace

Panghat Lawn

Sunken Lawn
Pride Amber Vilas Resort – Luxury Resort
Pride Amber Vilas is a great place to host a memorable wedding in Jaipur. The resort also offers spacious lawns and banquet halls for guests. All your wedding events, from Vidai to Sagai, will be arranged by the resort so that they are memorable.
floral decoration

Fireworks

lighting

Transport

Horses

Elephants

folk dance
Samode Palace – Historic Venue
Samode Palace adds elegance to your custom-made wedding plans at this heritage property in Jaipur. It is a historic venue that offers a unique setting for your dream Jaipur wedding. It is a beautiful backdrop for traditional weddings. The palace also lights up the mood of the host family and guests with its state-of-the-art amenities and services, including the deck and restaurant.
Darbar Hall

Sheesh Mahal (Hall of Mirrors).

Sultan Mahal

Durbar Hall Terrace

Roof Top

Swimming Pool Deck

Mughal Gardens in Samode Bagh

Infinity Pool
The Lalit – A Great Wedding
This beautiful Jaipur wedding venue offers a stunning backdrop for your special day. The Crystal Ballroom is one of the many venues available for events. Quorum and Party Lawn are two other intimate venues. The Lalit has everything you need for your big "I do" day.
Crystal Ballroom

Central Courtyard

Party Lawn
Why choose Mega Weddings for your Special Day?
Mega Weddings, a Delhi-based wedding planning company that specializes in Destination Weddings in Jaipur, offers modern and unique ideas and hassle-free wedding management services. We believe weddings are unique and will make them unforgettable. We offer a fresh approach and innovative management of wedding events while keeping in mind traditional etiquette.
Weddings are supposed to be fun and luxurious. Every event and every moment will be memorable for you and your family. Our team of luxury wedding planners has years of experience with more than 450+ weddings, both nationally and internationally. We will pay close attention to all details you provide and present you with customized wedding planning packages that meet your needs and preferences.
As a Wedding Planner in Jaipur, We offer A-Z Wedding Planning services, including entertainment, catering, best venue booking assistance, social media promotion, and wedding decor. We also assist with minute arrangements such as wedding stationery, itinerary and gift trousseau.